Victorian Sailing Cup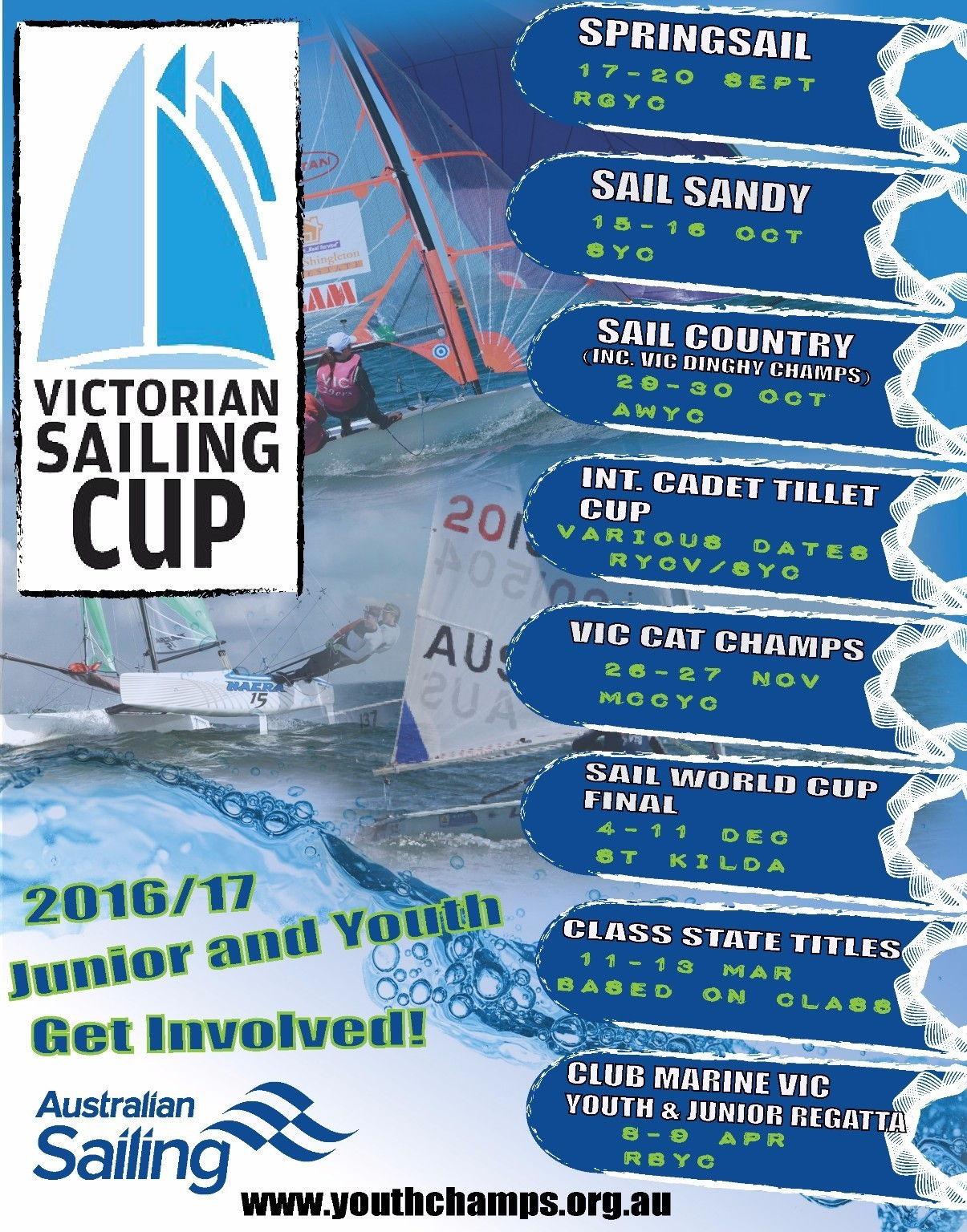 The 2017 Victorian Sailing Cup (VSC) is a sailing series for Junior and Youth classes in Victoria. This series is based on the same concept as the Sailing World Cup Series but specifically for junior and youth sailors and aimed at building fleet racing experience.
The series is comprised of 8 established regattas that many sailors already compete in. Using the results of those regattas a high score points system will be used to calculate the Victorian Sailing Cup winners in each class.
The classes for the series are International 420, 29er, Hobie 16, Minnow, Laser Radial, Laser 4.7, International Cadet, International Optimist, Open Bic and Viper.
There is no entry fee and no need to register for the series; the results from each of the nominated regattas will be used to score the series.
The top 20 boats in each class/regatta will only receive points. For example first will be scored 20 points, second 19, etc…and twentieth 1 point. A boat finishing in twenty-first place or greater is scored zero.
The Notice of Race for each regatta establishes the eligibility and entry requirements for that regatta. Monohulls are not eligible to compete in the Victorian Catamaran Championships and therefore this regatta will not count towards their series result. Likewise Multihulls are not eligible to compete in the Victorian Dinghy Championship and therefore this regatta will not count towards their series score. Also, International Cadet are not eligible to compete at the Sailing World Cup Final Invited Class but points will be awarded from the Tillet Cup.
The following regattas constitute the Victorian Sailing Cup for the 2016/17 season:
Springsail

17 - 20 Sep

Royal Geelong Yacht Club

Sail Sandy

15 - 16 Oct

Sandringham Yacht Club

Sail Country Inc the Vic Dinghy Championships

29 - 30 Oct


Albury Wodonga Yacht Club

Victorian Catamaran Championships


26 - 27 Nov

McCYC

International Cadet Tillet Cup

19 - 20 November

4, 10, 11 December

Sanringham Yacht Club

Royal Geelong Yacht Club

Sailing World Cup - Final

4 - 11 December

St Kilda


Class Assocations - State Titles

11- 13 March


Various Locations

Ref to Class Ass. Website

Club Marine Victorian Junior & Youth Championships

8 - 9 April

Royal Brighton Yacht Club
The winners of the Victorian Sailing Cup will be awarded at the Australian Sailing Victoria Awards in June 2017.
Further information about the Victorian Sailing Cup or for any questions please contact Lesley Fasala on Lesley.Fasala@sailing.org.au or phone 03 9597 0066
2016/17 Victorian Sailing Cup Documents
2015/16 Results
2014/15 Results
2013/14 Results